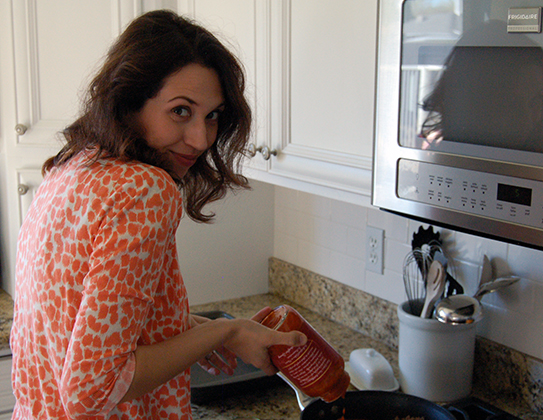 This blog has always been a place for sharing fashion inspiration and my latest projects, but with this relaunch I've decided to share more about my personal life. Part of that is a look into my home life with Ryan and Elle.
This past weekend was very relaxing and I got to do quite a bit of cooking. I started out as a terrible cook, but since the launch of Pinterest in 2011 I have been a decent one. Yet, another thing I owe to the great social inspiration tool.
While I cook Elle usually plays with her toys in the kitchen. I love our home so much, and the kitchen is really the place where we spend most of our time. Even when guests come over we all congregate there. Although, I suspect it's food that draws us there more than the space itself.
As far as what I wear on the weekends, you can count on me living in jeans. I found this cute, comfy t-shirt at Urban Outfitters (you can get 2 for $24) recently, and I paired it with a J.Crew cardigan and polka dot oxfords from GAP. They don't sell the oxfords anymore, but they do have amazing polka dot pointy flats. I also wore a special Kate Spade necklace Ryan got me a couple years ago. I wear it A LOT! (Now I'm obsessing over this KS necklace, click here).
How do you spend your weekends? What do you typically wear? I'd love to hear!